Read between the lines is to encourage aspirants to self study and refocus on the newspapers instead of totally depending on third party sources for their preparation.
We pour tremendous time, thought, resources, to bring you Parivarthan. If you find it useful , please subscribe for Free daily Email Updates
Free daily Email Updates
How to make most of Read between the lines Explained here, also you can find all the Previous read between the lines posts here in the archives.
Chandrayaan 2 orbiter – Lander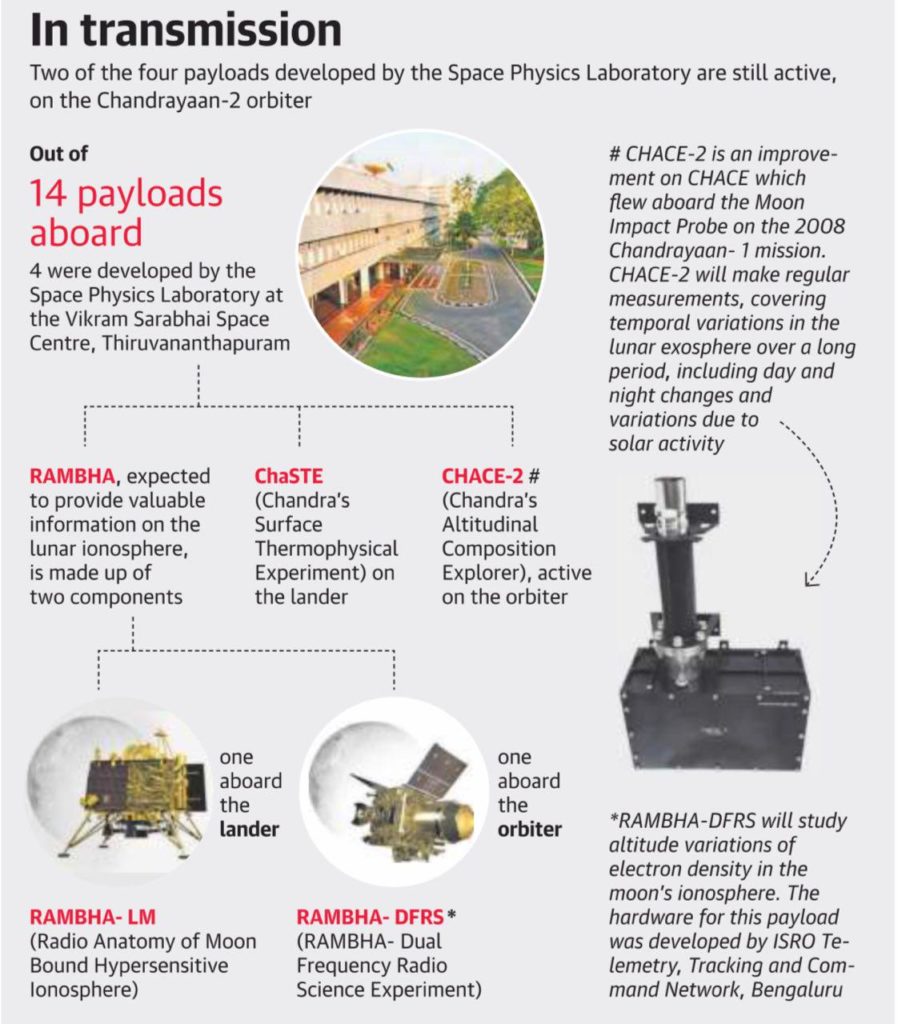 Article 371
Oath is administered to governor by ?
Saharia- Sentinels- particularly vulnerable tribal groups-
Particularly Vulnerable Tribal Groups (PVTG)s
Primitive, geographically isolated, shy and socially, educationally & economically backwardness these are the traits that distinguish Scheduled Tribes of our country from other communities. Tribal communities live in about 15% of the country's areas in various ecological and geo-climatic conditions ranging from plains to forests, hills and inaccessible areas. Tribal groups are at different stages of social, economic and educational development. While some tribal communities have adopted a mainstream way of life at one end of the spectrum, there are 75 tribal groups have been categorized categorized by Ministry of Home Affairs as Particularly Vulnerable Tribal Groups (PVTG)s. PVTGs reside in 18 States and UT of A&N Islands.
The criteria followed for determination of PVTGs are as under:
A pre-agriculture level of technology;

A stagnant or declining population;

Extremely low literacy; and

A subsistence level of economy.
Among the 75 listed PVTG's the highest number are found in Odisha (13), followed by Andhra Pradesh (12), Bihar including Jharkhand (9) Madhya Pradesh including Chhattisgarh (7) Tamil Nadu (6) Kerala and Gujarat having five groups each. The remaining PVTGs live in West Bengal (3) Maharashtra (3), two each in Karnataka and Uttarakhand and one each in Rajasthan, Tripura and Manipur.
Particularly vulnerable Tribal Groups (PTGs) who have been identified in the Andaman & Nicobar Islands. They are:-
Great Andamanese of Strait Island

Onges of Little Andaman

Jarawas of South and Middle Andaman

Sentinelese of Sentinel Islands

Shompens of Great Nicobar
PVTG In news:
Chenchus Nallamala forests Andhra Pradesh
Kadars are listed as Particularly Vulnerable Tribal Groups (PVTG) in Kerala,
Chhattisgarh Abujh Marias
Tuberculosis
Fake news
Section 153a of IPC promoting enmity
Information technology act
Local self government
73rd and 74th amendments
State election commission
State finance commission
Devolution of powers
Smart City program
What is gram sabha
Collegium system transfer of chief justice of High court
National register of citizens
Vasudivakutumbakam
Exclusive economic zone
India, a traditionally maritime country with rich maritime heritage, has an Exclusive Economic Zone (EEZ) of about 2.37 million km2 wherein India enjoy the exclusive legal right to utilize all living and non-living resources.

The entire EEZ have been divided into two areas viz. deep water areas (> 500 m water depth) and shallow water areas (< 500 m water depth).

Following the enforcement of the United Nations Convention on the Law of the Sea (UNCLOS) in 1994 a new form of national economic jurisdiction was established globally to the seas extending 200 nautical miles from the coasts of sovereign states.

Article 55 of the document defines the legal regime of the Exclusive Economic Zone.

The article defines an area marked as an Exclusive Economic Zone (or EEZ) as – "The exclusive economic zone is an area beyond and adjacent to the territorial sea, subject to the specific legal regime established in this Part, under which the rights and jurisdiction of the coastal State and the rights and freedoms of other States are governed by the relevant provisions of this Convention" (UNCLOS, 2001).

The EEZ for India is one such maritime area extending from India's coastline where India has economic and jurisdictional control subject to the clauses of UNCLOS.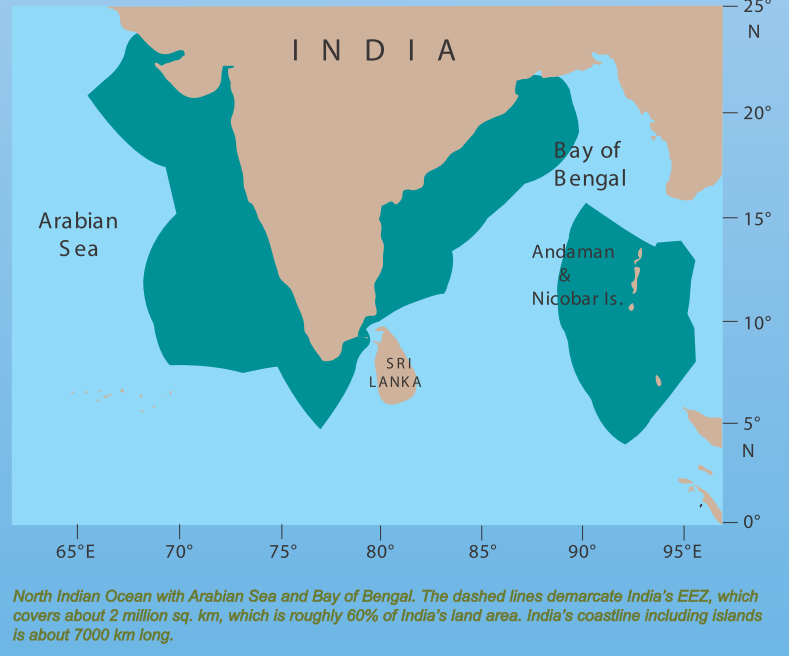 Comptroller and auditor general
MAP : Hong Kong,
Yemen- Houtis- Iran
(Taliban) Afghanistan