The Interpol has issued a Red Notice against diamond merchant Mehul Choksi based on the Central Bureau of Investigation's request.He is accused in the multi-crore Punjab National Bank Letters of Undertaking fraud, who has taken refuge in Antigua. . He is accused in the multi-crore Punjab National Bank Letters of Undertaking fraud, who has taken refuge in Antigua.Earlier this year Interpol Red Notice was issued against Nirav Modi .
Red Notices
What is the purpose of an INTERPOL Red Notice?
A Red Notice is a request to locate and provisionally arrest an individual pending extradition. It is issued by the General Secretariat at the request of a member country or an international tribunal based on a valid national arrest warrant. It is not an international arrest warrant.

INTERPOL cannot compel any member country to arrest an individual who is the subject of a Red Notice. Each member country decides for itself what legal value to give a Red Notice within their borders.
Are the individuals wanted by INTERPOL?
No, they are wanted by a country or an international tribunal. When INTERPOL publishes a Red Notice this is simply to inform all member countries that the person is wanted based on an arrest warrant or equivalent judicial decision issued by a country or an international tribunal. INTERPOL does not issue arrest warrants.
Who are the subjects of Red Notices?
Red Notices are issued for individuals sought for prosecution or to serve a sentence. When the individual is sought for prosecution it means they are suspected of committing a crime but have not yet been prosecuted and so should be considered innocent until proven guilty.
How is a Red Notice issued?
Police in one of our member countries request a Red Notice via their National Central Bureau and provide information on the case.
The INTERPOL General Secretariat publishes the Notice after a compliance check is completed.
Police all around the world are alerted.
Why is the Red Notice important?
It gives high, international visibility to cases

Criminals and suspects are flagged to border officials, making travel difficult

Countries can request and share critical information linked to an investigation.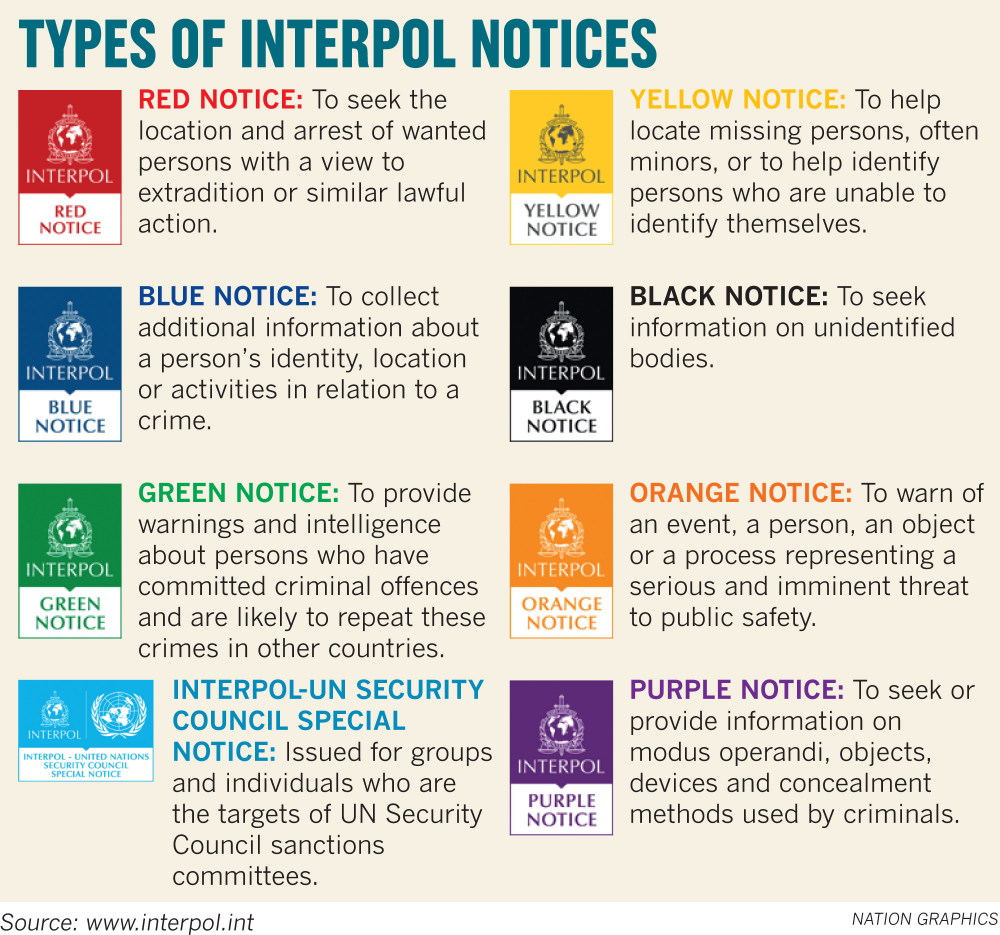 Red Notice: To seek the location and arrest of wanted persons with a view to extradition or similar lawful action.

Yellow Notice : To help locate missing persons, often minors, or to help identify persons who are unable to identify themselves.

Blue Notice: To collect additional information about a person's identity, location or activities in relation to a crime.

Black Notice :To seek information on unidentified bodies.

Green Notice: To provide warnings and intelligence about persons who have committed criminal offences and are likely to repeat these crimes in other countries.

Orange Notice: To warn of an event, a person, an object or a process representing a serious and imminent threat to public safety.

INTERPOL–United Nations Security Council Special Notice: Issued for groups and individuals who are the targets of UN Security Council Sanctions Committees.

Purple Notice: To seek or provide information on modus operandi, objects, devices and concealment methods used by criminals.