The election results of worlds largest democracy will be declared on April 16 and the Opinion polls and exit polls are all pointing NDA's way . How accurate are these predictions ? and what are the recent developments in this area ?
First we need to have clear idea about various terms relating to the polls .
Post Poll survey is an indigenous method of survey for measuring voting behaviour developed in India. Post Poll survey is a unique method of conducting election survey which was pioneered by CSDS in the 1960s wherein the voters were interviewed after the polling was complete in the relaxed confines of their homes. The post poll survey for measuring voting behavior is purely an academic exercise done with the purpose of doing the post mortem analysis of the elections. (Kumar & Rai: 2003).
Exit Poll as its name overtly suggests is an election survey, which is conducted among voters as they come out or exit from the polling station after casting their vote on the polling day. This survey is also known as Election Day polling as the survey is conducted and completed on the day of polling. (Kumar & Rai: 2003).
Pre poll survey as the name indicates is an election survey that is conducted before the elections are held for measuring popular choices about political parties, contesting candidates and political leaders. It also helps in measuring voting behaviour amongst different section of voters. (Kumar & Rai: 2003).
Today both Hindu and Indian Express published front page stories regarding the exit polls , how accurate they might be ?
EPW published an article in this matter
Election surveys are seen as covert instruments used by political parties for making seat predictions and influencing the electorate in India. It is high time opinion polls take cognizance of the situation to establish their credibility and impartiality.
Here is the article Status of Opinion Polls Media Gimmick and Political Communication in India by Praveen Rai.
The predictions are wrong most of the times in terms of numbers and in politics numbers can change every thing and new coalitions may form overnight .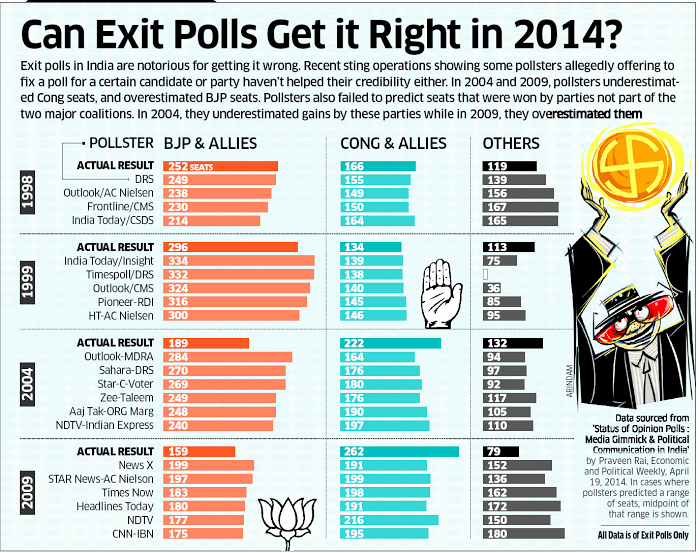 The Conclusion give by Praveen Rai isContrary to their foreign counterparts, media opinion polls on elections in India have focused more on predicting the number of seats major political parties are going to win or lose in the elections rather than understanding the key issues facing the electorate. A recent sting operation on polling agencies have also revealed that seat prediction figures are manipulated in favour of their clients.
Thus election surveys have been reduced to a media gimmick of only predicting the election results that are quite often wrong or off the mark. As a result election surveys are seen as covert instruments used by political parties for making seat predictions and influencing the electorate in India. Therefore, the Election Commission should ban forecasting before the elections but not the opinion polls.
The recent debate is that Opinion polls should be banned and Yogendara Yadav has written an article in TheHindu regarding this .
Opinion polls: the way forward YOGENDRA YADAV
Opinion polls should be regulated, not banned. Ideally, it should be self-regulation by pollsters and media organisations.
The 2014 election predictions are like this from various sources
These exit polls may not be accurate all the time but it is evident that is going to be a Modified India . pic.twitter.com/AAywRIa5Zt

— saikrishna (@sai_crfan) May 13, 2014
I don't like predictions but just for fun I will add my own :
NDA : 170+ to < 200 . UPA : 90-130 AAP :007 and Ak will win in Varanasi .
I am not affiliated to any political parties and my prediction is just wild guess and for fun not supporting or opposing any one .