UPAC Topper Kanishak Kataria AIR 1 started sharing his Strategy, Sources and PDF Notes via a Telegram channel .
We pour tremendous time, thought, resources, to bring you Parivarthan. If you find it useful , please subscribe for Free daily Email Updates
Free daily Email Updates
Kanishak Kataria UPSC Topper marks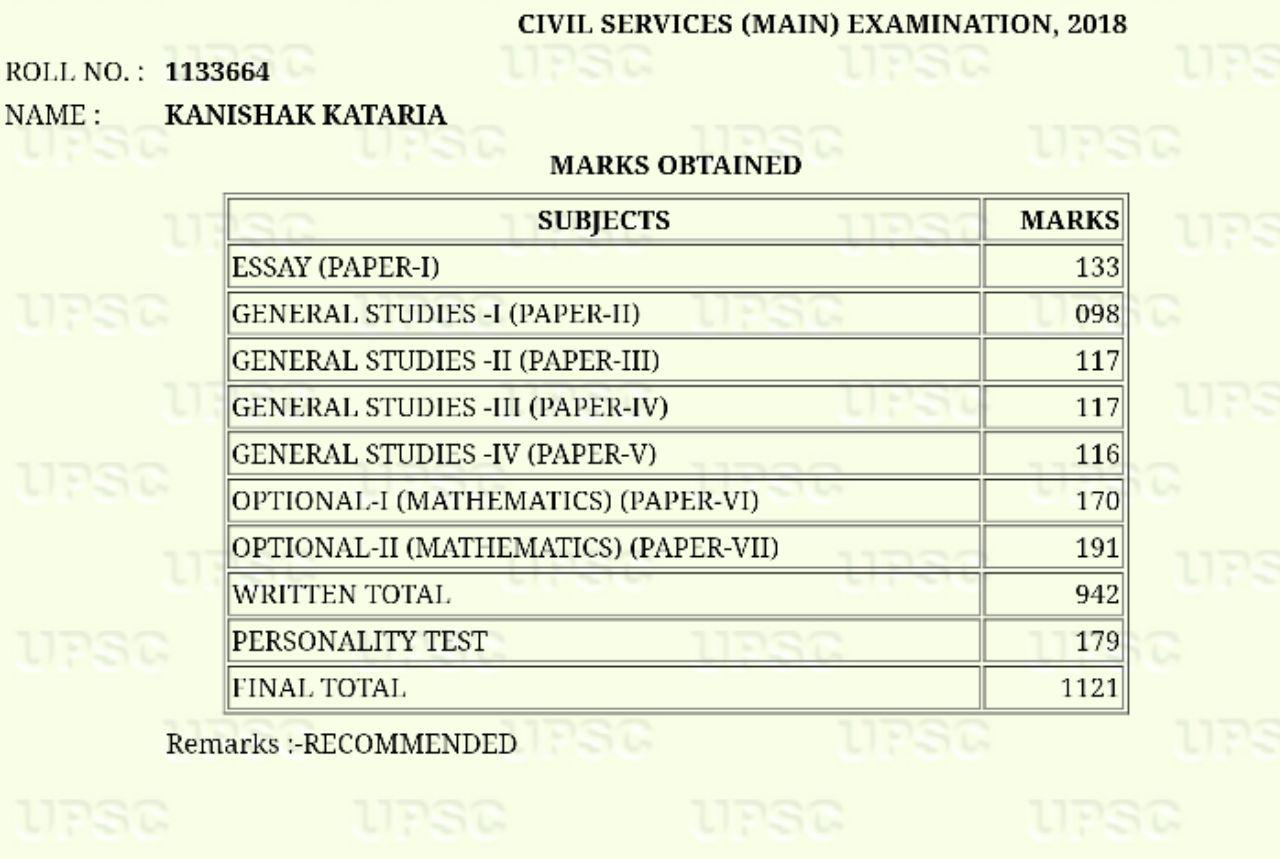 In His own words :
Hi, I will be sharing some Evernote notes which I used. They are derived from my classnotes, some test series trivia, other online and offline information. There might be some typos here and there. Please bear with them. These notes are in no ways exhaustive. They were supplemented by other offline material, for both Prelims and Mains.
Kanishak Kataria Notes
Kanishak Kataria Books List:
In his own words: Many people have asked me about my booklist. It's more or less similar to my friend Prudhvitej's booklist (AIR 24 UPSC 2017) – replace all classnotes with Vajiram classnotes. It'll take me sometime to arrange all the information. Till then you can refer to his sources: https://drive.google.com/open?id=1lpa7-LoNMQ36OsDuyJtJDCpu89bMJ50f
CAUTION:
The given booklist is neither exhaustive nor sufficient for qualification in prelims.
Much of it was constrained by my optional.
Depending on own level of comfort, students should refer to the books.
I DID NOT copy any other topper's booklist.
I just got a basic understanding and then read what I felt most comfortable with.
Each topic was also updated through Test series reverse learning – Vajiram and Vision – both available online.
Internet was also used to improve the collected information.
All class-notes are from Vajiram classes made by myself and NOT COPIED.
Vision PT 365s were referred for all the topics, specially Environment and Science and Technology.
History
Ancient History:
Jain Sir class notes
Only few chapters from NCERT (couldn't remember much)
Test series reverse learning
Medieval: No bandwidth to prepare. Only relied on test series trivia.
Modern History
Parmar Sir class notes
NCERT
Spectrum (selective reading)
Art and Culture:
Vajiram class notes + test series.
No bandwidth to read any book.
Indian Polity
NCERT: Indian Constitution at Work
Vajiram Classnotes -Ravindran Sir, Abhey Sir, Abhilash Sir, Gautam Sir
Geography
NCERTs – XI, XII
Vajiram classnotes -Shivarpit Sir, Manocha Sir, Amit Sir
Self Map work
Rajtanil lectures – Only Physical Geography
Internet – pmfias
Economics
NCERT – XII Macroeconomics
Vajiram classnotes -Vibhas Sir, Samyak Sir, Kapuria Sir, Sanghi Sir
Sriram booklet (not end to end but topic wise)
Economic Survey – Part II
Internet – Investopedia, Arthapedia, Vikaspedia etc.
Science
Vajiram classnotes -Bindu Ma'am for Biotech, Binoy Sir for Space Tech + Nanotech,Rahul Sir for everything else
Internet reading
Environment
NCERT Biology XII – last 4 chapters
Vaishali Ma'am class notes
Self notes using Unacademy, Internet
Shankar Book- selected chapters (didn't like the book that much)
Current Affairs
Daily newspaper without fail
IYB: only class notes from Vajiram
PT 365s
Internet
No time for Magazines and Monthly compilations
Schemes
Kanishak Kataria Strategy and Mathematics Optional
Watch From 41 Minute Onward:
Evernote links :
Ancient History :
Own strategy: Had very less time. So tried to cover class notes only. If someone has time/interest, please refer to other standard books like XIth NCERT and/or Nitin Singhania. Ancient History Notes in the "history" notebook are from Jain Sir's classes at Vajiram. A lot of information has been added to it through test series materials.Those facing issues in this particular topic along with paucity of time, can try to cover these notes. Hopefully, they will be of some benefit in the examination.
Kanishak Kataria AIR 1 Answer sheets PDF Download:
Will keep updating for the benefit of students. You can Follow our channel for regular updates https://t.me/iasips